Waterproof High Strength Outdoor Wall Panels For Residential Prefabricated Houses/Residential Property

Introduction of Outdoor Wall
External Wall Panel has its own three-in-one structure, which has light weight and high strength. It adopts assembly construction. The wall panel is interlocked with the wall panel to form a whole, and its impact resistance is better than ordinary masonry. It is anchored by the steel member method. Riveted to structural columns and beams, the overall performance is stable, the net load of the building can be reduced, and it can be fixed on the structure to improve the structural safety factor of the building, which can effectively prevent earthquakes and never collapse.
According to statistics, the use of lightweight sandwich panel materials can save about 30% of the total cost of construction, and the plate wall can at least increase construction efficiency by more than 3 times than the wall of blocks and bricks.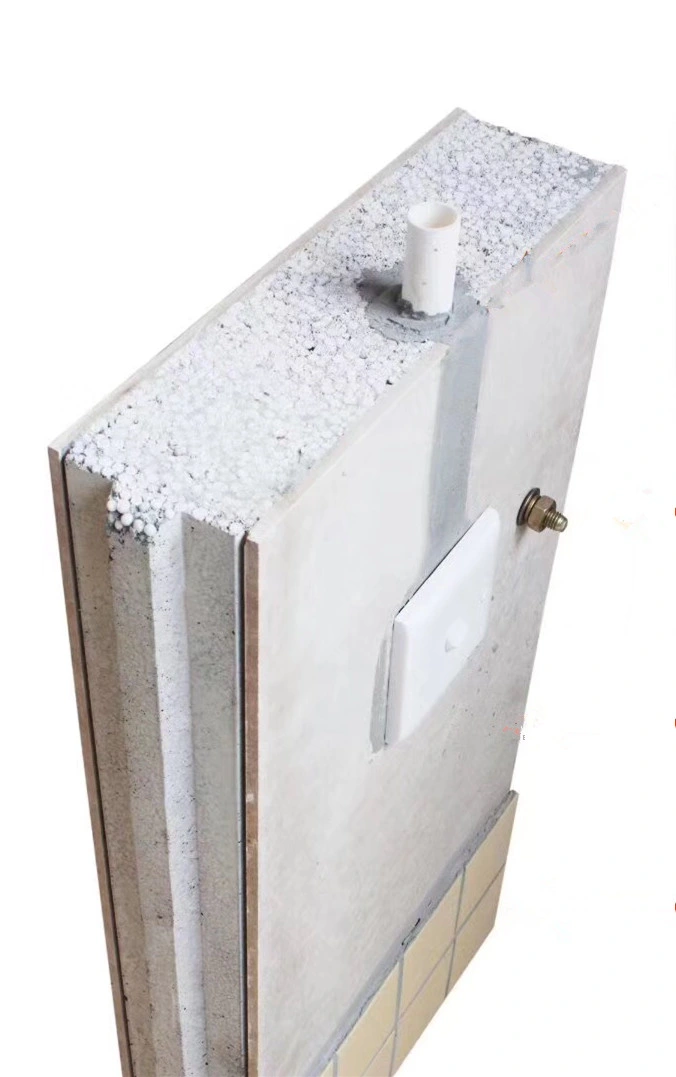 Advantage of Outdoor Wall

1. Safety and environmental protection.
Unlike those natural stones that emit harmful gases such as radon, which are not good for human health, the raw materials used for the lightweight energy-saving wall materials of polystyrene particle sandwich panels are 100% free of harmful substances and not radioactive. So it is very safe and environmentally friendly.

2. Superior fire performance.
The outer material calcium silicate board itself is a cement-based board. Its fire and moisture resistance performance is superior, and the lightweight core material can also have a fire resistance limit of more than 4 hours at a high temperature of 1000 degrees Celsius, while not emitting toxic. Gas, the overall non-combustibility is above the national level A standard.

3. The thickness is small, which increases the indoor use area.
Polystyrene particle sandwich panel energy-saving wall materials generally use 75mm wall material compared with 120 brick wall thickness is 45mm less, that is to say, the use of energy-saving lightweight wallboard, every 22m, can increase the area of 1 square meters. For a 2-storey 200m2 villa, it can increase the use area by at least 6m2 compared to the brick wall, which is equivalent to a large bathroom!

4. Assembly construction, good integrity.
Because it is assembled construction, it has a three-in-one structure. The board is connected to the board as a whole, and the impact resistance is 1.5 times that of ordinary masonry. The structure of the polystyrene particle sandwich panel is compact and does not deform. High strength, the overall seismic performance is many times higher than ordinary masonry walls!

5. Moisture proof, waterproof and soundproof.

Experiments have proved that the polystyrene particle sandwich panel can be cemented into a pool filled with water without any waterproof finish, and the back of the wall can be kept dry without leaving traces or in wet weather Condensation drops appear. Can be used in wet areas such as kitchens, bathrooms, and basements. In addition, the cement fibers on the surface of the polystyrene particle sandwich panel and its internal materials have good sound insulation effects.

6. Thermal insulation
The composition material of the polystyrene particle sandwich panel has good heat insulation function, and the composite plate with the same thickness is more than 10 times the heat insulation capacity of the brick wall! Can make indoor ambient temperature more comfortable.

7. Can be nailed.
The polystyrene particle sandwich panel can be directly nailed or expanded with bolts to hang heavy objects, such as air conditioners, with a single-point hanging force of more than 45kg; and the panel surface of the wall panel is flat and smooth without dust, and can be directly pasted Tiles, wallpaper, wood veneer and other materials for finishing.

8. Light weight and fast construction speed.
The density of the 75mm thick polystyrene particle sandwich panel is only 45kg /m2, which is equivalent to 1/7 of the weight of a 120mm thick masonry. Two workers can easily move a board, the construction is simple and convenient, and three workers can complete it in 4 days The wall installation of a 200m2 house has saved a lot of labor costs. Overall, the cost of housing has been greatly reduced.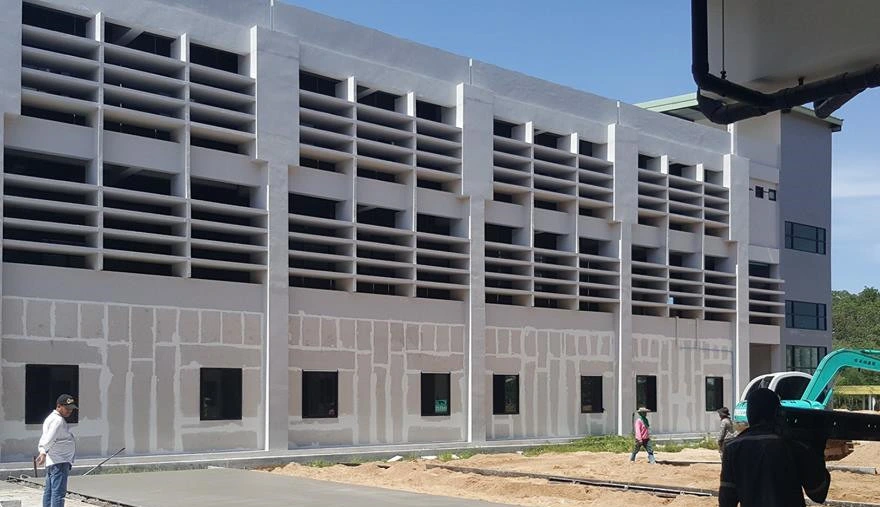 Trading term of Outdoor Wall
1. Payment: T/T or L/C at sight;
2 .Lead time: 7-20 Working days;
3. Shipping freight are quoted under your requests;
4. Discount: based on the order quantity;

Contact us