Heat Insulated/SGS Certificate/TUV Sandwich Panel for Exterior Wall/External Wall/Outer Wall
Itroduction of Sandwich Panel
EPS Cement Sandwich Panel is made from both surfaces with 100% Non-Asbestos Calcium Silicate Boards( Siliceous and Calcium , such as sand, fly ash, lime, calcium carbide sludge and cement) the core of natural sand, foam particle, light weight port-land cement and many additives etc.
EPS Cement Sandwich Panel is well suited for urban areas with high rise buildings and those with high temperature variations. Due to lower density, high rise buildings constructed using eps cement sandwich panel require less steel and concrete for structure members.
Requirement of mortar for laying eps cement sandwich panel is reduced due to less number of joints. Similarly material required for rendering is also lower due to dimensional accuracy of eps cement sandwich panel. Better thermal efficiency of eps cement sandwich panel makes it suitable for use in areas with extreme temperature as it eliminates need for separate materials for construction and insulation leading to faster construction and savings.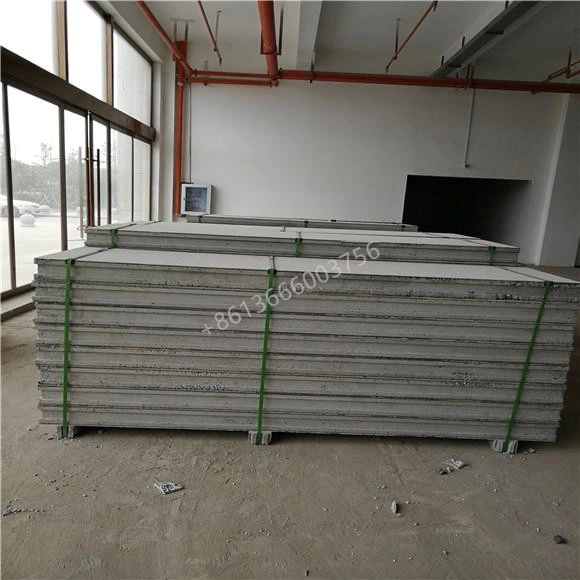 Specification of of Sandwich Panel
ITEM

Specification

Length

2270/2440mm

Width

610mm

Thickness




60mm roof system




75mm roof system




90mm interior partition wall




100mm interior partition wall




120mm exterior wall, floor, roof deck




150mm exterior wall
Advantages of Sandwich Panel
Light weight and high strength;

High hanging force;

High fire resistance and long fire resistance limit;

Good sound insulation effect;

Large thermal resistance and good thermal insulation performance;

Good waterproof performance;

The product has low shrinkage value and small shrinkage cracks;

The product surface is smooth and flat: the wall does not need to be plastered, and the amount of greasy unit area can save 1/3 compared with other walls;

Green and environmentally friendly building materials;

Increase the use area, good economic benefits;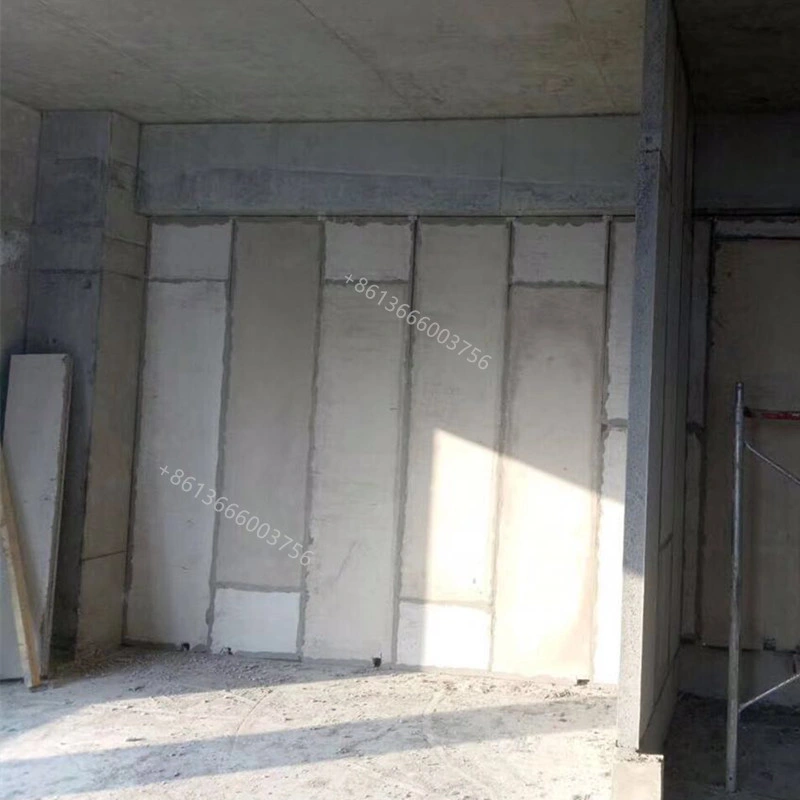 Installation of Sandwich Panel
1. Paying-off and Sandwich Wall Panels Arrived on Site
Adopting high precision laser alignment instrument to eject double lines of panel thickness on axial line of panel installation location, move the panel to the settled location according to different specifications.
2. Sawing Panel According to Requirement
Adopting hand-hold electric saw cutting the panel according to different need, make sure maximum using each panel to reduce the waste.
Sizing the bump slots and even up the special ZJT panel adhesive into the bump slots and baseline of the floor.
Erected the painted panel with adhesive and move it to the prepared installation site, adjusting the panel to fit both of the baseline and tighten each panel to push the extra polymer mortar out of the joint crack, fixing the panel by wooden wedge.
5. Correction and Fixation
Correcting the panel position by using 2m levelness & verticality straight guide rule, adopting expansion rubber together with 6mm or 8mm steel bar to fix the panel.
6. Grouting and Filling Thick Liquid
Leave the installed and corrected panel for one day, adopting BOYUEJIA special panel adhesive to filling the joint crack. Remove wooden wedge and smooth the crack by polymer mortar.
Adopting hand-electric saw to cut the slotting for switch box or concealed line if needed, smooth the slotting by polymer mortar after installation.
8. Sticking Anti-Crack Tape
Sticking anti-crack tape in 3-5 days after grouting to prevent crack which may caused by long time expansion or contraction.
Reserve holes for door and window, and fixing the holes by plywood line anchor.
10. Decoration
Sandwich wall panel do not need extra plaster for the surface, decorating the wall surface directly by tiles, wallpaper or other painting.
Contact Information