Product name : exterior wall cladding outdoor wall panels hpl wall cladding
1.Introduction
HPL fireproof mog board
is used magnesium oxide board as substrate material, and compounded with gluing melamine paper to MgO board.
It combines the advantages of MgO board and melamine paper, and is an innovative decorative wall material.
Mgo decorative wall widely used for interior&exterior decoration and furniture making.
OCM®products all certificated according to ASTM and AU/NZS standards.

2.Specification
Face

HPL one face or two faces

HPL surface

Matt, Glossy, Relief, Grain, etc.

Backside

Standard,Sanding,HPL coating

Core material

Magnesium Oxide Board

Glue

E0

Standard size

1220*2440,1200*2400mm

Thickness

6 , 8 , 10 , 12mm

HPL veneer thickness

0.5mm , 0.8mm , 1.0mm
3.Performance

(1) Fireproof Board
OCM standard mgo board was tested by the National Center for Quality Supervision and Testing of Fire Building Materials (NFTC). Its fireproof level is rated level A (nonflammable level);

(2) Moisture Resistance
OCM standard mgo board is excellent in moisture resistance. Dry bending strength is 15Mpa. Bending strength under absorbed moisture is 22Mpa;

(3) Heat Insulation
OCM standard mgo board has heat prevention material incorporated, it has great feature of heat prevention. Thermal resistance is 1.14m2k/w;

(4) Sound Insulation
OCM standard mgo board is proved to have good noise insulation property after inspected by the National Center for Quality Supervision and Testing of Fire Building Materials (NFTC). The noise insulation factor of the wall can reach 44dB and 47dB. It has the best noise insulation constitution in China, especially the 95mm wall comprised by the 10mm board.

(5) Bump-resistance and light
OCM standard mgo board is a light board. Its density is less than 1300kg/m3. At the same time its bending strength and impact resistance is excellent. Also, it will maintain its' quality during construction. It is light, it can save time, space, weight and expense. It is a new and high efficient wall.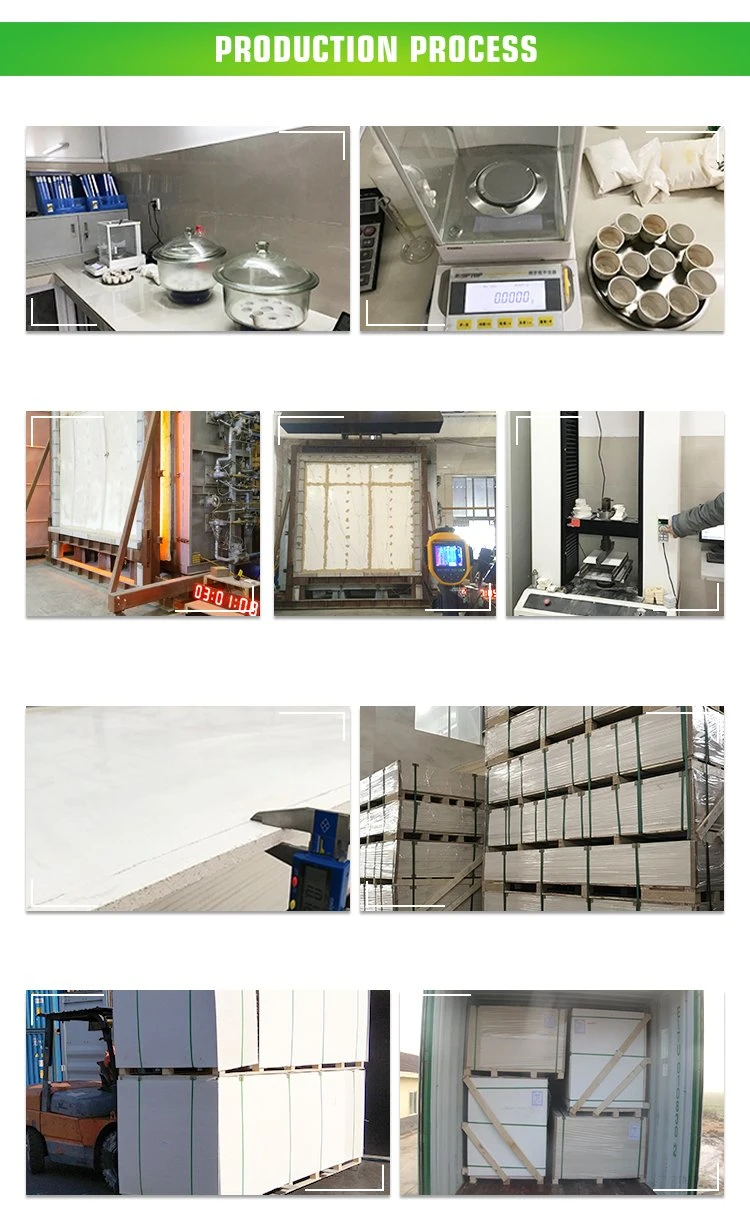 4.Application

(1)Partition board
(2)Interior & exterior wall panel
(3)Ceiling board
(4)Flooring
(5)Lining of fireproof board
(6)Core of fireproof door
(7)Prefabricated houses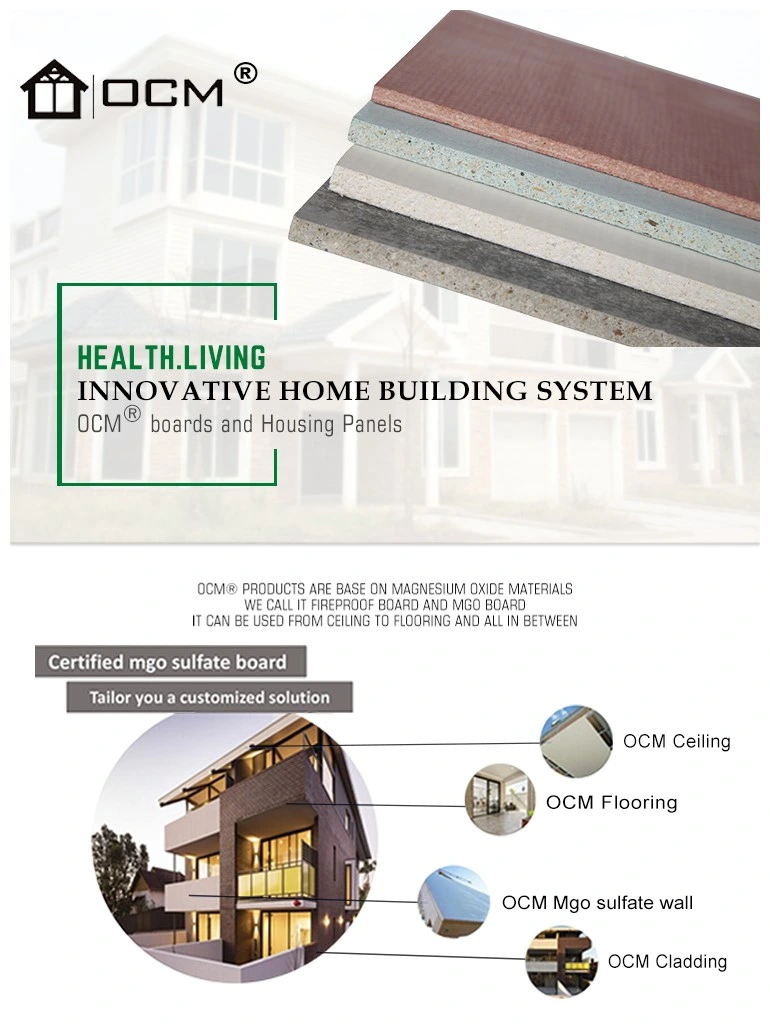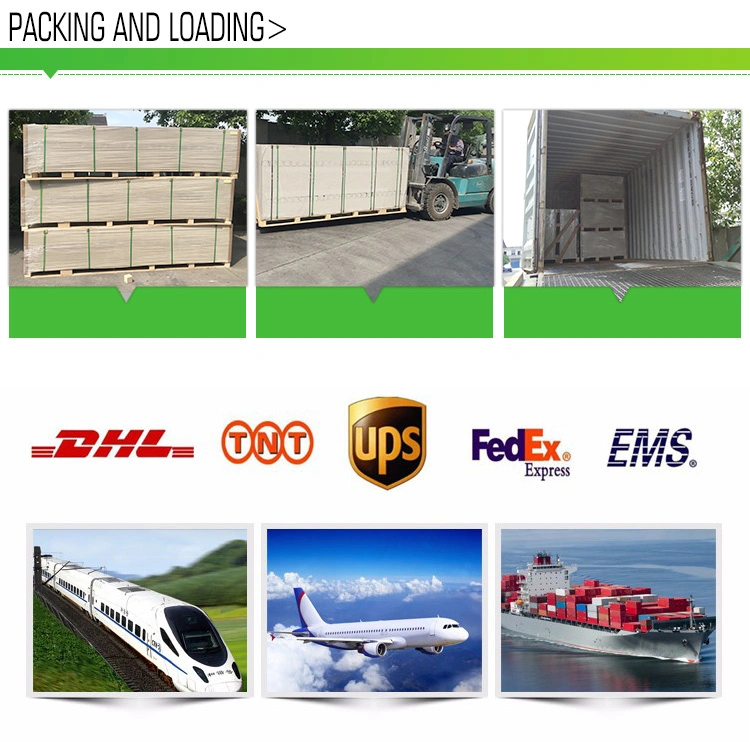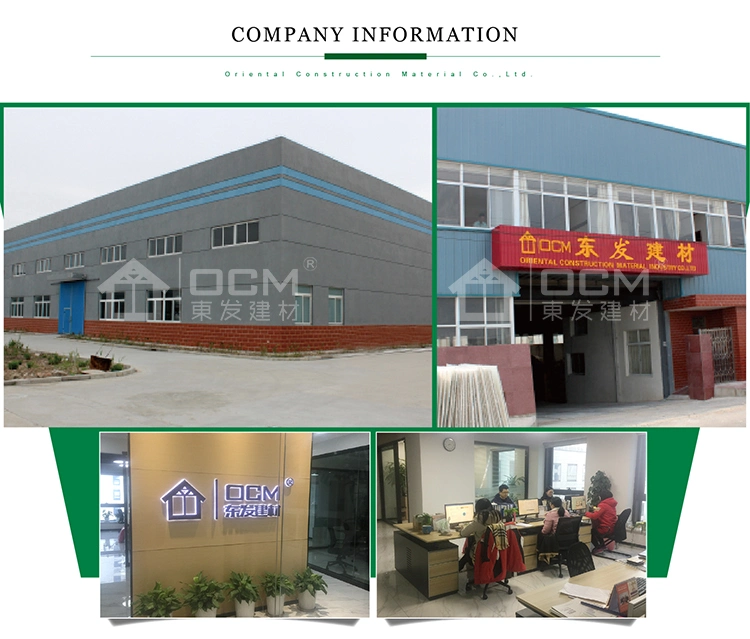 ABOUT US
CHINA OCM(Oriental Construction Material) is located in Zhangjiagang City, Jiangsu Province, China.
We have two factories produce fireproof mgo products. Zhangjiagang Oriental Construction Materials Co.,Ltd(OCM) is produce basic Fireproof Mgo board.
Zhangjiagang Oriental New Construction Materials Co.,Ltd is produce further processed materials, Like decorative Mgo wall, sandwich panels and Acoustic ceiling.
We are specialized in ecological construction industry, innovation, manufacturing and distribution of fireproof building materials since 1999.
Our fireproof wall materials have already passed the international tests like EN,AS and ASTM.
To expand business solutions,OCM developed two building systems based on these fireproof materials. All products export through OCM trading company.
We have a sound quality control system, normative progress operation standard, and advanced production equipment.
Utilizing the incredible properties of natural minerals, OCM has created a catalog of highly innovative and energy effective fireproof products covering roofs to flooring and everything in between.
5.FAQ

1.What is your delivery time ?
15-20 days after down payment
2.What's your payment terms?
30% deposit by TT ,balance after B/L or irrevocable L/C
3.Can customized size as our request?
Yes,we can cut any size as request
4.What's your company production capacity?
We can produce 8000sqm (10mm) per day
5.What's your MOQ,can we order mixing different size ?
Yes ,MOQ 100pcs and mixed loading also acceptable