Raw Materal of Mgo Board:
Mgo Board uses proprietary processes with MgO,MgCl2,Perlite,Fiberglass,Chip compounds to deliver a multi-purpose,versatile,non-combustible,and unique board material.This integral,hard,inert and paperless construction panel has superior characteristics over panels made from gypsum,clay or wood and paper particles.So for an easier,better and faster job,MGO board is best for interior and exterior construction.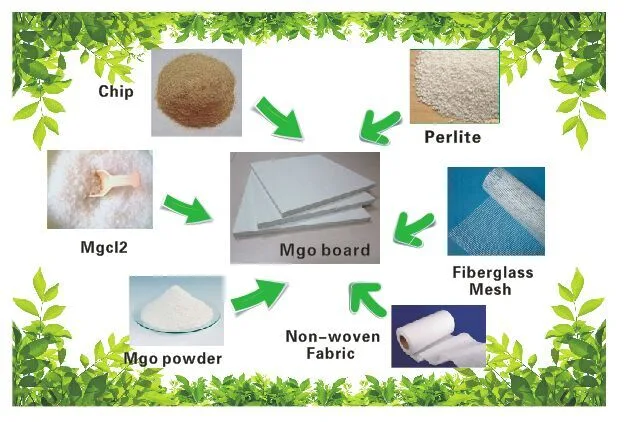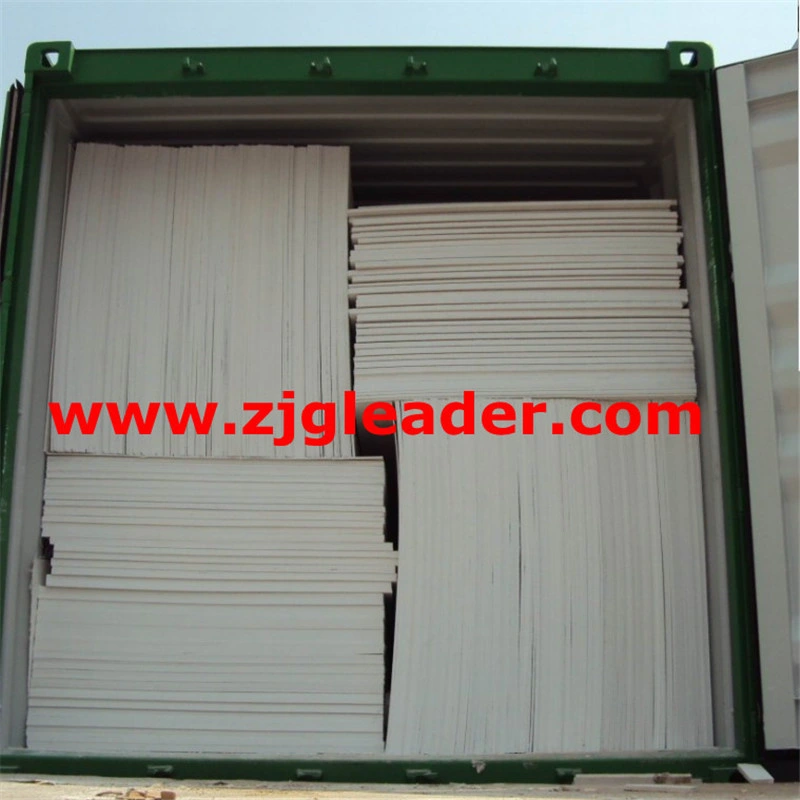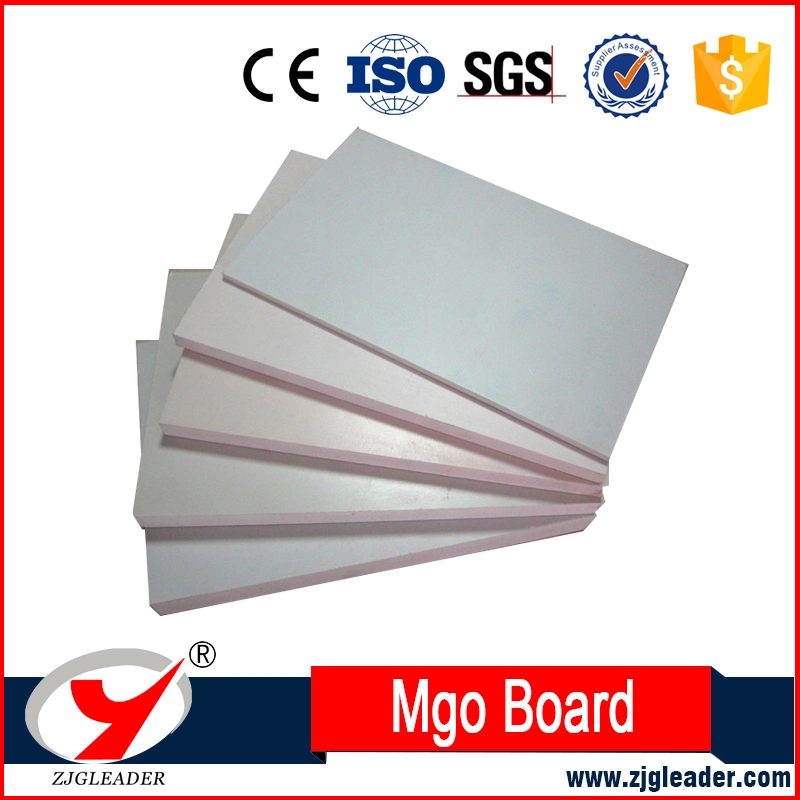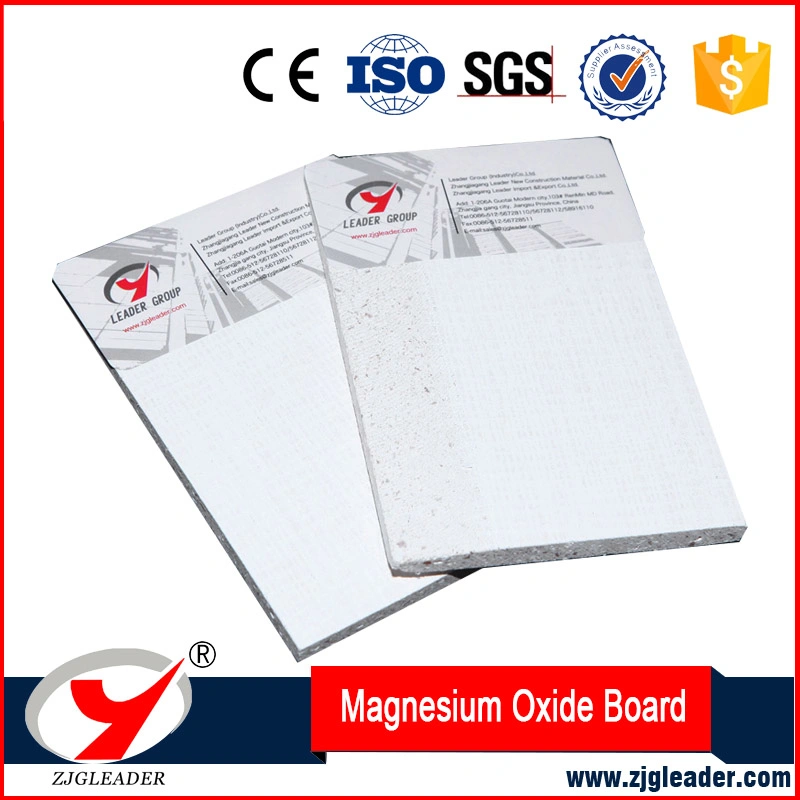 The application of Mgo Board:
*Interior Wall and Ceiling Board
* Exterior Sheathing
*Trim Materials
*Fascias
*Soffits
*Shaft-liner & area separation wall board
*Tile backing (backer board) and underlayment
*Substrates for coatings and insulated systems such as:Directed-Applied Finish Systems,EIFS,SIPS,Portland type Stucco and Synthetic Stucco.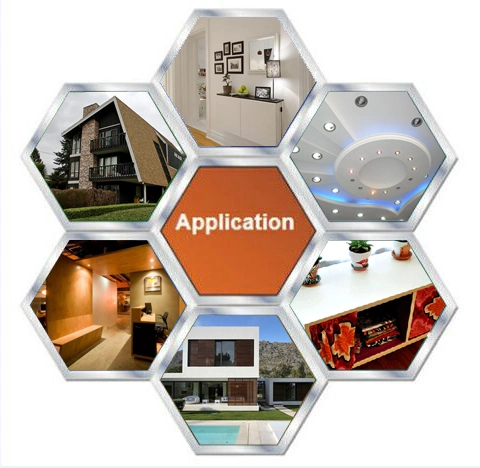 Purpose and use in Mgo Board:
Magnesia is widely used primarily as wallboard alternative to conventional gypsum-based drywall. The Magnesia boards can be scored and snapped, sawed, drilled, and fastened to wood or steel framing.
Specification and Data Information of Mgo Board:
Edge
Square
Taper
Beveled
Grooved
Standard size(mm)
1200*2300mm/1220*2440mm
1200*2500mm/1220*2500mm
1200*3000mm/1220*3000mm
Max.width(mm)
1220mm
Max.length(mm)
3000mm
Thickness range(mm)
3-20mm
Available color
white,grey,green,red and pink

Heading
Unit Used
Inspection value
Standard
Density
g/cm³
0.96-1.12g/cm³
GB 8624
Fire ratings
grade
A1
GB/T7019-1997
Thermal Resistance
K/W
1.14K/w
GB/T13475-92
Bending Resistance(Dry)
≤Mpa
18Mpa
GB/T7019-1997
Bending Resistance(Fully
Absorbed in Water)
≤Mpa
22Mpa
GB/T7019-1997
Sound Insulation
dB
≥44dB
GBJ121-88
Absorption Moisture
≤%
≤15%
GB/T7019-1997
Tensile Strength
≤Mpa
8-13Mpa
GB/T7019-1997
Impact Resistance
kj/m²
Between 2.0-2.5 are qualified,
for 4mm,our board could reach 4.5kj/
so our boards are good.
CNS 13778

1.Our products have passed CE,SGS&ISO9001:2000 testings.
2.Special sizes are available by your request.
Our product's main feature:
Fireproof:
ZJGLEADER MGO board adopts the A-grade non-inflammable material measured through national authoritative organizations.Its fire endurance can limit to 4 hours.No harmful smog will be generated which ensure people's safety.
Waterproof
ZJGLEADER MGO board has excellent dampness prevention performance.It can keep intact after being soaked in water without swelling and deformation.
Soundproof
ZJGLEADER MGO board can insulate sound effectively equaling to a 95mm thickness soundproof wall or a 12mm thickness gypsum board.It is equivalent to the effect of a 150mm thickness ordinary solid brick wall.
Insulate heat
The thermal resistance of a ZJGLEADER MGO board is 1.14m2k/w.ZJGLEADER MGO board performs well in heat insulation and warm-keeping.
Light weight and high strength
ZJGLEADER MGO boards' intensity of impact resistance is 2,3 times to the wall of ordinary.ZJGLEADER MGO board is easy to install which can shorten cost for a project.
Convenient process
ZJGLEADER MGO board is convenient to carry and cut.It can be easily installed which can reduce the cost.It is equipped with high bending resistance with lower thickness,and can be used in various types of processing.
Durable
ZJGLEADER MGO board has stable performance.It is acid-alkaline resistance and antiseptic.It also defends insects and ants.
For more information and details,Please contact me!
Your response will be replied immediately!
Best regards